College Football
Published on July 24th, 2012 | by Jordan Kull
21
5 statues that should have been taken down long before Joe Paterno's
Amid scandal, the Joe Paterno statue has been removed from campus leaving our author to wonder if this is only the beginning.
As the Sunday sun began shedding light on the student's spoils taken home from the previous night's bender, Penn State president Rodney Erickson was finally folding to the media's pressure in a way that would make French paper-dolls jealous. With the final signal given at 7:30 a.m., the removal of the Joe Paterno statue outside Beaver Stadium was imminent. By noon, every walk-of-shame had been walked, all Tylenol tablets had been swallowed, and the biggest hangover in the history of the school had  come to an end — with the face of the football program for over a half-century now unable to be found anywhere on campus.  And the man the statue commemorated certainly couldn't be reached for comment.
Aside from the library keeping the coach's namesake — fitting considering it was silence that led to his downfall — if you're looking for the Paterno name, you should start by looking in the very mud in which it had been dragged. Is all this really necessary? Should a man whose statue was erected solely for the skills he displayed on the sidelines be destroyed for failing to commit an act off of it? Why can't the statue stand as a reminder of the coach's inevitable dance with humanity, the black and white…the good and bad? Why can't there be an addition of a plaque that speaks of the terrible situation and how it stands due to the legend Paterno became on the field, and in spite of the man he chose to be when twenty plus (if they were twenty plus in age, this wouldn't have been an issue) children needed him to be one most? We all have our demons, don't we?
After all, if we begin to rip down statues of iconic figures on the basis of moral decay alone, would we even have any statues left to take annoying Instagram photos in front of? Which brings us to…5 statues that should have been taken down long before Joe Paterno's.
1. Eldrick Tont "Tiger" Woods
Who doesn't remember this bout of crazy Joe Paterno displayed during a commercial for the Big 10 network?
Easy Joe, you're liable to break a hip, if not an important vein. Then again you've shown over the years that those are well iced. Zing. Well you know who else is crazy? Tiger Woods. There's no need to go into the juicy details that occurred in the winter of 2009 — the over 8 hookers that claimed to sleep with the then married golfer, the wrecked SUV that started the whole mess, or the downward projectile and accompanying kerrplunk sound that became his golf career — no there is no time to go into these details.
So if you can't get enough of Tiger's face still splattered all over video games, SportsCenter, or any Masters plug, perhaps you should take a trip to Anaheim, California to check out the statue of him and his father. The engraving reads "I challenge you…to reach higher and farther than you ever imagined". Yes Tiger, you certainly did, and fell right on your carefully pressed pleats. 
2. Virtually every statue in Washington D.C.
From Benjamin Franklin – serial adulterer,  to Thomas Jefferson – slave owning adulterer, to Abraham Lincoln - marijuana loving spiritualist, there isn't a clean American "hero" of the bunch. Yet they are idolized, immortalized, fictionalized – then immortalized again. 
3. Michael Jackson outside Craven Cottage
Outside a small soccer stadium in London, stands an ugly, incredibly out of place statue of Michael Jackson. The reason it's there? Michael Jackson once attended a Fullham F.C. game, presumably to get a look at the men in short shorts chasing the black and white thing around for a change, instead of the other way around. The owner liked Michael, his music, and his acquitted pedophiliac activity so much that in the summer of 2011, he erected a statue in his honor. Something the Fullham fans are quite proud of I'm sure.
4. Christopher Columbus 
One of the most grossly misrepresented heroes in the history of history, Cristoforo Colombo. It's bad enough that he is nationally celebrated for doing something that he didn't even do (find America first) but when you look at what he did do, mainly enslave a people in their own land while raping their women and children, it's not much better. Alas, he still can be found in bonze, pewter, and any other material statues can be fashioned out of across the entire country.
5. Albert Pujols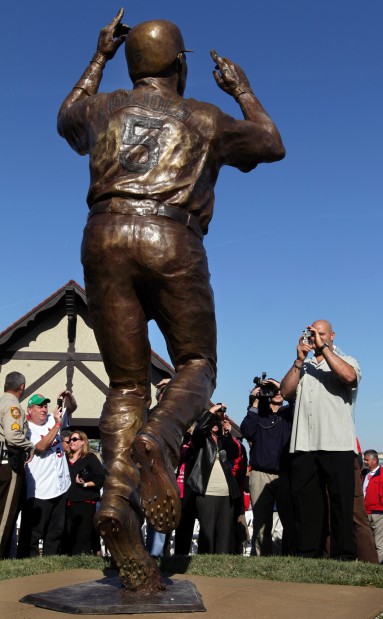 In February of 2009 Albert Pujols made this statement,  "Why would you want to leave a place like St. Louis to go somewhere else and make $3 or $4 more million a year?". In the winter of 2011, his actions would speak louder than his words by doing exactly what he said he wouldn't—join the Anaheim Angels for $4 million more a season than what his team of more than a decade, the St. Louis Cardinals, had offered. Hey, it's a business mang'. Never mind the fact that the best fans in baseball, by Albert's own admission, practically worshiped the ground he walked on. Even when that walking took place down the first base line after a slow roller back to the pitcher. The fans didn't mind, they had an idol. Then he turned his back on them, jet-setting for Cali-four-ni-a and leaving his statue on West Port Plaza behind, along with a few million cocked off Cards fans.
R.I.P. Joe. Then again, you might consider making a noise from time to time.